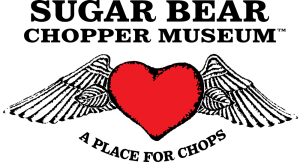 The basic program of the Museum will be to present the history and influence of the custom motorcycle on American culture through exhibits of influential builders and leaders of the genre, both past and present. The presentation of their work, not limited to but including, customized motorcycles and accessories, a photo gallery of each artist, and verbal presentations by the artists (where possible) will be held at the Museum. Attendees to these functions will be able to see and experience these exhibits as well as interact with the artists personally through seminars and presentations. Each exhibit will be promoted by announcements on social media, motorcycle blogs, motorcycle magazines, and the Museum's website under the program section.
In the future, The Sugar Bear Chopper Museum will have its grounds available during The Black Hills Rally to provide spaces for vendors who directly service the custom motorcycle industry. There will also be areas designated for outdoor custom motorcycle shows as well as areas for swap meet vendors.
The location of The Sugar Bear Chopper Museum with frontage access on Highway 79 , it's view of Bear Butte Mountain, it's view of the Black Hills in the distance, and the size of the grounds provides the potential to establish the facility as a destination and gathering "place" for custom enthusiasts and interested parties to come together for information, instruction, and insight into the custom genre we know as "Choppers".
Our goal is to provide a place for all motorcyclists to gather and interact in a relaxed and comfortable setting. To be able to view the different makes and models and having the opportunity to meet with the owners and builders of these motorcycles, will be an unforgettable experience for all in attendance.
In addition to the professional custom builders, old and new, any independent or private builder will have an opportunity to display his or her creation daily at "The Gathering at Chopper Flats". This format will create and inspire a great amount of riders to continue the customization genre we all know and love.
To facilitate this interaction, there will be areas set aside for the different models, so those in attendance can find and view their favorite motorcycles without having to randomly search for them in a sea of motorcycles. For example, we will have a section each for Harley Davidson Sportsters, Triumphs, Harley Davidson Knuckleheads, and so forth.
The Sugar Bear Chopper Museum wishes to provide an outdoor area for those who wish to be married under our "Big Sky" in a setting providing a panoramic view of the South Dakota plains, with the Black Hills and Bear Butte Mountain as a back drop. Also, many married couples may also utilize the grounds to renew their wedding vows in this serene setting. Reservation and fee is required.