GATHER
We will work to collect and exhibit custom motorcycles and other artifacts pertaining to the chopper culture.
EDUCATE
Our goal is to preserve these glorious machines, and their creator's legacy.
CELEBRATE
This diverse art form must be celebrated and preserved for future generations to discover and enjoy.
FROM SUGAR BEAR
•••••The concept of The Sugar Bear Chopper Museum came about when I became concerned that the history I had been compiling was not known throughout the motorcycle industry and could be lost or forgotten over time. There were surely many chopper enthusiasts and others in the motorcycle industry who would want to be exposed to and learn about the development of choppers and customization of motorcycles from previous generations.
•••••There are indeed motorcycle museums throughout the United States, however, normally they may have a chopper or two, and those are usually displayed with very little information about the motorcycles and the creators of those motorcycles, if any at all. Most museums are mainly concerned with the preservation of motorcycles as they were originally produced by the various manufacturers. However, customization has had an enormous impact on factory and industry styles (i.e., 21 inch tires on front wheels, wider tires on rear wheels, high handlebars on touring motorcycles, etc), and many motorcycle enthusiasts are not aware of or forget the effect of this genre on the industry.
Sugar Bear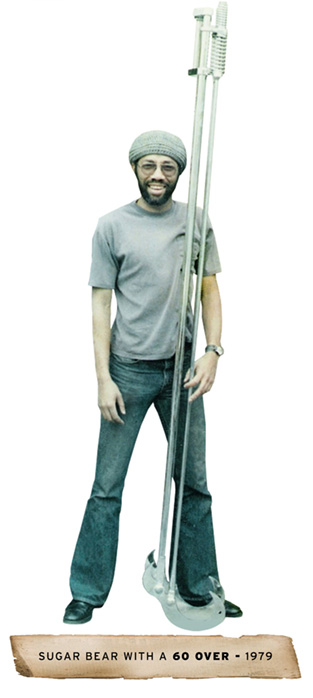 VISION
Create an outdoor experience surrounded by the natural beauty of the Black Hills.
All are welcome. Plenty of open space. Free admission. Free parking.
Good People • Good Food • Good Times • Great Bikes
Choppers Flats is a majestic site surrounded by panoramic views of the Black Hills.
It is home to the Sugar Bear Chopper Museum.
Located 12 miles north of downtown Sturgis --east side of highway 79.
19484 SD HWY 79, Vale, SD 57788
STAY CONNECTED
Keep up to date with the latest Sugar Bear Chopper Museum and Chopper Flats news!